Sign up now to our newsletter and receive 10% discount on your first order.
Your skincare routine
starts inside
At Youth Essentials we believe in timeless beauty: a kind of beauty that is inherent to each and every one of us and that stems from within.
Youthful skin is here
Ingestible Beauty Supplements to support your naturally blissful glow
Carefully crafted for you to embrace and enhance your beauty
At Youth Essentials we believe that a healthy lifestyle and the right supplements can make wonders for your skin, hair, and nails and turn time from your enemy into your greatest ally.

By working closely with leading nutritionists and microbiologists we have managed to come up with the best-suited formulas for our dietary supplements - formulas enriched with vitamins, minerals, and antioxidants to help you restore the natural balance of your body and highlight the beauty that comes from within: from a healthy body and a healthy, happy mind.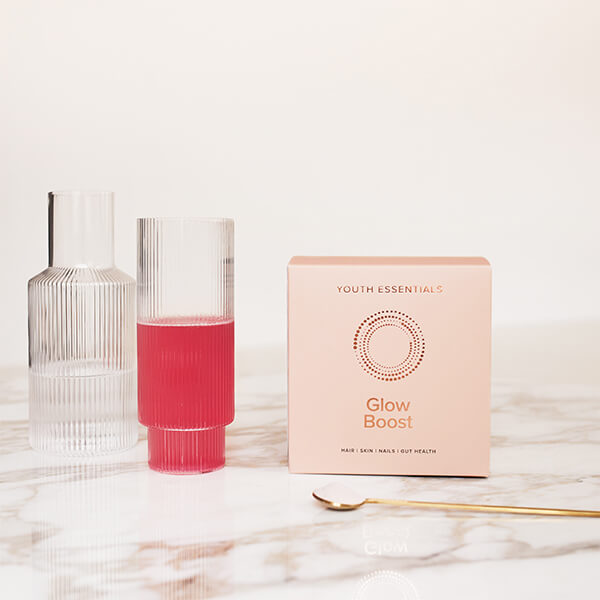 KIND WORDS FROM OUR CUSTOMERS
"I am my first customer. In the past year I was regularly taking Glow Boost while waiting for the registration process to complete and I've seen a big difference in my skin, hair and nails. My hair grew so much and my skin was so radiant. We understood the gut-skin axis and we improved the formula with probiotics. I like to think that Youth Essentials can deliver that next level of beautiful skin and I am looking forward to receiving our customers feedback."
- Gabriela Besciu, Co-founder
EVERYTHING YOU NEED
Exclusive formulas
The secret behind everlasting beauty is to acknowledge our needs and live in harmony with them. Our formulas are designed to provide you with all the nutrients that maintain a healthy balance between body and mind.
Quality
Our products are manufactured in Germany and Italy, using the latest developments in the pharmaceutical and dietary supplements fields. They are natural and environmentally friendly.
Inside routine
Inner harmony and balance are the keys that unlock the vault of timeless beauty. To achieve this level of balance and harmony, our body needs to be nurtured and nourished accordingly.
Wellness
As long as you're healthy and happy - you're beautiful, there's no doubt about it. Create your ritual around the moments of peace and tranquility and enjoy a glass of Youth Essentials.